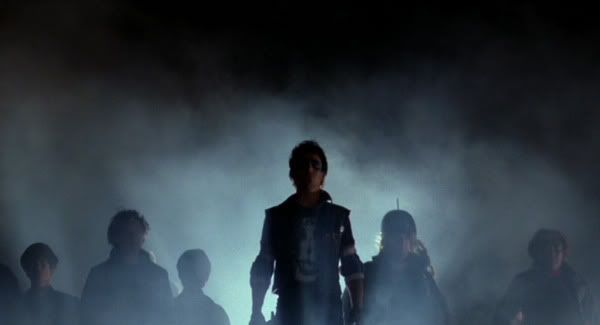 Let's Party! We love Friday the 13th. Lots. So, to celebrate, we're going to tell you about 13 sort of Nashville-related things we're stoked for. Sound good? Wrong. It doesn't sound "good", it sounds great!
This weekend

. We're stoked for this weekend because of the Symptoms release show, the Daniel Pujol/Spandy Candles house show, and for the Cheap Time / Looking Glass / Kindergarten Circus show at YEAH! All the info for those shows can be found in early posts. Check them out.

Fall in Nashville

. We're right in the prime-time for Nashville's Fall season. All the trees look pretty, the breezes are breezy…. Who wants to go to the Parthenon?

Bruce Springsteen and John Fogerty

. The Boss & Co. are coming to town next Wednesday and John Fogerty is back here on Sunday. This in itself could probably cover numbers 1 – 13, but that just wouldn't be fair to you, would it? Also, has anyone seen that clip from the Hall of Fame show at MSG where Bruce and John are playing TOGETHER? Makes you wanna cry.

Burn to Shine: Atlanta

. We don't know when/if this is ever going to come out, but we're huge fans of the Trixie DVD series. And with a lineup of artists as bad as that [Black Lips, Mastadon, ANDPW, Carbonas, etc.] we just can't wait to watch.

Michael Jackson

. He'll never die.

Night People

. One of our favorite labels right now has got a bunch of upcoming releases. Including stuff from Tyvek, The Polyps, Taterbug, The Twerps, and lots of other great bands. Go here and check them out.

Bad Sports LP.

Our babies down in Denton, TX are putting their debut LP out next week on Douchemaster Records. If it's anything like the cassette and couple of 7″s they dropped us back in August, we'll be stoked. Someone told us it sounds kind of like Jawbreaker's first LP.

Our next 2 radio shows

. Seeing as how these next 2 shows could very well be our last at WRVU, we're gonna really kick out some jams and blast the waves to bits. Be sure to tune in on Thursday from 4-5PM.

Older music

. We can't stop listening to James Gang, R Stevie Moore, Todd Rundgren, Abner Jay, The Weeds, Smoke, Primitives, blah blah blah blah blah. This 13 thing is kind of hard so we're stretching now. Sorry.

SAFG

. Those boys have got some real big stuff stewin' in their crock-pots. More specifically, a BIG show Nov. 28 at Little Hamilton that we'll tell you all about next week.
– 13.

We're done with this

. I know, it's pretty lame of us to bail when we've only got 3 more things to list, but we're hungry so it's time for some Gabby's and then nightlife.