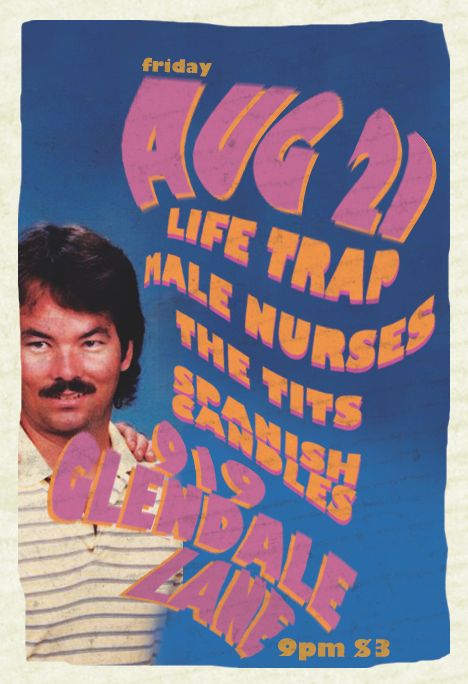 We don't typically do this, but we figured: who cares? We were going to make a post about tomorrow night's Life Trap/Male Nurses show, but instead our pal Sound Tribe Sector Cy decided to say a few words. Check it out below.
LIFE TRAP IS PLAYING TOMORROW!! It's gonna be a house SHOW! Last time they played was more than a few months ago and every body that has seen them knows how crazy their shows are. It's going to be off Glendale where the Cannomen played their first show. It's an awesome basement with a bar and a stage. Anyone going to the Useless Eaters show will recognize front man Seth Dookie Jones playing guitar again in the Life Trap. You don't want to miss this.
Also playing – THE BOSTON PUNX ARE COMING!!! Boston's very own Male Nurses will be playing their first show in the south. They have a record coming out on Deranged soon and anyone into the Life Trap/ No Way 80's Hardcore revival thing will eat them up.
and – SPANISH CANDLES. The house band of the Glendale house has been getting steadily more popular. unfortunately their drummer Cam Sarrett will be living abroad for four months in…you guessed it Spain. So this will be one of there last show for a few months. They are a pretty bad ass pop punk band of sorts (the good kind) and they should be great.
Let's not forget – KINTARO. (The tits had to cancel) These guys have thankfully stepped up to fill in for this show. former and present members of Meemaw, Cannomen, Turbo Fruits, yadda yadda yadda. Wether they like it or not they are known for their sound which is almost always described as a mix between The Replacments and Jawbreaker. They have an e.p. out now availble all around town.
Thanks STSCy! We can't wait for the show!
:: Life Trap [back from the dead!]
:::: Male Nurses <----- Boston hardcore!
:::::: Spanish Candles
:::::::: Kintaro [Tits cancelled]
@ Glendale House [919 Glendale Ln]
$3 – All Ages – 8PM